"It's Bible time kids!"
I love getting my kids together in the mornings for Bible time! The kids love to grab a special blanket or pillow and their Bibles and maybe some coloring depending on the age of the child and his/her attention span.
With five kids and such a span of ages (14 months to 12 years right now) it can sometimes be difficult to find ways to engage my little children in a way that my older child will not become easily bored. With that in mind, I was so excited to have the chance to review a set of Bible cards for my preschool aged children with the CWA Review Crew!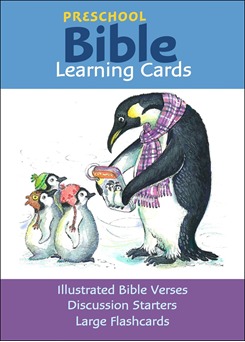 Words2remember4kids is based on the idea of getting children and parents to learn encouraging, comforting and classic Bible verses through illustrations and discussion starters on large flash cards. These cards are great for every day use around the house and in the car.
Their website says these Bible verse cards will get young preschoolers "off to a good start as a member of the family, as a friend, and in their walk with God."
My thoughts:
The cards are made of a durable material and have holes punched in them to insert a child safe ring (included) to keep the cards together when they are out of the box.
The pictures on the cards are really wonderfully done. I found there was often plenty in each picture to make a whole discussion with my little kids based on the picture and scripture to talk about a way to grow closer to God.
The color coding is a great help and makes it easy to use to find the different cards that have different themes. The themes in this pack were Learning, Loving, Growing, and Playing!
About the company: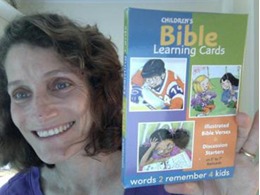 Vicky has been a children's book illustrator and a Christian for many years. When a friend suggested the idea of creating Bible verse cards, she thought here was a chance to use her art to share the Good Word.
She selected verses that speak to children and to parents and created three sets of cards, 1 for young preschool children and two for elementary school children.
They are a small company, with Vicky Enright as the illustrator, and Kristen Smith, who has her Masters of Divinity who helps with the verses and discussion starters. Their company is located in the Boston area.
Watch this cute video to learn more!
Purchase your own set here!
http://www.words2remember4kids.com/
Bible Learning Cards
List Price: $14.99 per set|Format:Each set has 20 different 5" by 7" cards
I received a free box of preschool cards in exchange for an honest review. I was not required to write a positive review nor was I compensated in any other way. The opinions I have expressed are my own. I am disclosing this in accordance with the FTC Regulations. I am part of The CWA Review Crew.