It's time to get ready for our annual camping trip!
We can't wait to get back and make some more memories! Swimming, fishing, boating, 4-wheeling, and lots of relaxing and EATING!
Since starting Trim Healthy Mama back in March both my son and I have lost 20 pounds each! Yep, that's 40 lbs of flab gone! (All with minimal "exercising" mind you. Just THM'ing life)
It's been
an interesting THM journey
to say the least! I've learned what GGMS, MIM, CIB, gluccie, and "doonk" mean. Learning how to make all the foods we love so my kids are growing and satisfied while my son and I lose weight has been more than a challenge. There were days I would stand in front of the open fridge and cry, "I can't eat anything in here! Ugh!"
But I've learned to come up with some of my favorite "go to" meals and snacks.
My favorite "go to" snacks are:
cheese sticks
mixed nuts
Greek yogurt
cottage cheese
eggs
skinny chocolate
protein shakes
But this blog entry is going to be about getting ready for CAMPING!
How do I take all the delicious THM recipes on the road and still make the week FUN and YUMMY? Here are some meal ideas I have put together to get me through our week of camp eating!
Who knows, maybe our other kids will want to join in on our THM meals too?!
For our camping trip, we have access to modern conveniences such as fry pans, stove, and even an oven! We have a small refrigerator and coolers to keep food cold. We have a camp fire for cooking too.
Breakfasts!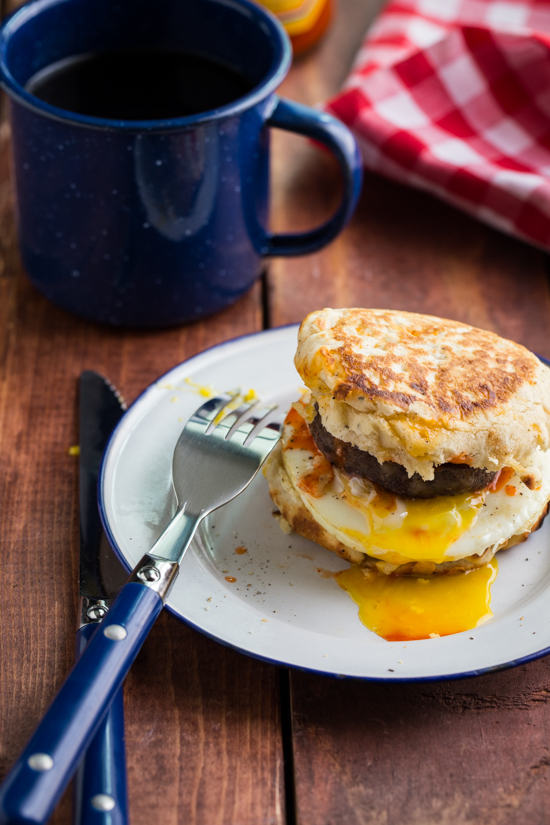 jellytoastblog.com has a great recipe for morning breakfast. I will take this recipe and sub out the regular biscuit for the two on the THM diet and use THM Muffin in a Mug for the biscuit. Almond meal and coconut flour biscuits with whole egg and sausage patty will make this a very satisfying camp breakfast, S style! Yum!
2.
Walking In Light
has a great recipe called Raspberry Cheescake Rollups with Cinnamon and Sweetener. I will use Joseph's Lavash wraps and this will stay in S territory thanks to the yummy fat in the cream cheese. Just warm the wrap and spread some cream cheese and roll and cut then roll in truvia blend sweetener with cinnamon!
3.
Sausage Roll Bites
24/7 Low Carb Diner
has a fun recipe for mini sausage bites. I'll buy precooked sausage links and bake these up in our camp oven. Serve these with some scrambled eggs and spinach, a yummy S breakfast!
4.
Cottage Cheese Scrambled Eggs
Speaking of scrambled eggs, this is a really yummy recipe with lots of extra protein thanks to the cottage cheese. Easy too! I'll serve these with fried French Style green beans maybe some bacon or sausage. Yum!
Lunches!
Lunches for us at camp often have to be portable because we are usually boating or out on the ATV's. When not having leftovers, these will be great go to lunches!

5. Low Carb Chicken Wraps
These look really yummy. I can make these with Joseph's Lavish Wraps. Serve with some pork rinds and celery while everyone else eats Doritos and I will be a happy camper! Taste and crunch needs satisfied!
6.
Taco Salad Three Ways
This is s a great recipe for making a taco salad three different ways, S, E, or FP. Î will probably eat this a couple times and try it in the different versions to keep my body guessing while on vacation! I sure would love to come back from vacation and have lost weight, not gained. This recipe will be a great way to shake things up. The kids will eat taco meat in flour tortillas. I may even enjoy this salad filling inside a Joseph's Lavish as a taco wrap one day! Lunch anyone?!
7. I couldn't find the link to this gorgeous wrap, but it looks pretty straight forward. Turkey, bacon, cheese, and lettuce all on a low carb wrap equals one yummy S lunch!
Dinner!
8. BURGERS! We will most likely eat burgers several nights while at camp. While everyone eats theirs on white buns, I'll be eating mine inside a Joseph's Pita. So good! Low-carb deliciousness, keeping a burger, even with bacon and avacado in S territory for a slimming meal!
9.
PIZZA!
These are a great go to meal I use at home and can easily make while at camp.
10.
Jalepeno Poppers!
These will make a fun appetizer staying in the S zone. I will probably leave out the little sausages.
11.
Fall off the bone RIBS!!!
I'll make these when our company comes for dinner! I. CAN. NOT. WAIT!!! Camp Dobsee here we come!