Horses are amazing animals. They can be a real source of comfort on the road to healing for many people. I was moved to tears when I learned about my cousin Kaitlyn Pintor who suffers from a
pain condition
and found some relief while caring for horses at
Hoof Beats
in California. You can read and listen to her story below.
But who cares for the horses who are destined to be discarded?
Vicki Watson explores the world of horse rescue
in her newest fictional book Tender Mercies.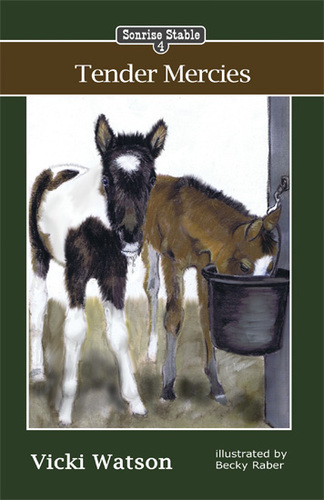 Our favorite homeschooled girls Carrie and Rosie are back!
Homeschooling and horses!
Life lessons, Christian faith, adventure!
In the fourth book in the Sonrise Stable series, Vicki Watson pens a story that follows a small newborn foal. The reader is introduced to the foal from its own perspective from its first moments with its mom and being taken away from her to being rescued by a wonderful horse rescue farm called Last Chance Corral to being adopted. Written from the perspective of the little foal at times the reader gets to not only learn about how and why horses are rescued but to see how a small foal taken from his mother might feel. This book opens the readers eyes to some of the horrible ways that humans can be cruel to animals. A cat who is speared with an arrow is one particular chapter that really drove the message home as Grandma quotes Proverbs 12:10 on page 73, "A righteous man regardeth the life of his beast: but the tender mercies of the wicked are cruel". Bible scripture, footnotes throughout, and wonderful black and white sketches make this an exciting learning adventure for any young horse loving child to read.
My girls and I have so enjoyed reading these stories
about two young homeschooled girls and their love for horses.
You can read my reviews of Vicki's other books here:
Author, Vicki Watson
"The Sonrise Stable series combines my love of God and horses in stories that I hope will help children learn more about both."
To learn more about Vicki click the link below.
Watch a wonderful intro to the book below.
Go on over and pick up your very own copy of Tender Mercies at one of these sites!
I received a free copy of this book to review. I was not required to write a positive review nor was I compensated in any other way. The opinions I have expressed are my own. I am disclosing this in accordance with the FTC Regulations. I am part of The CWA Review Crew.